tutorials / profile videos / promos




noun
a suite of videos showcasing a range of creative work displaying your skills
& talent to potential clients
SEE WHAT WE CAN CREATE WITH YOU!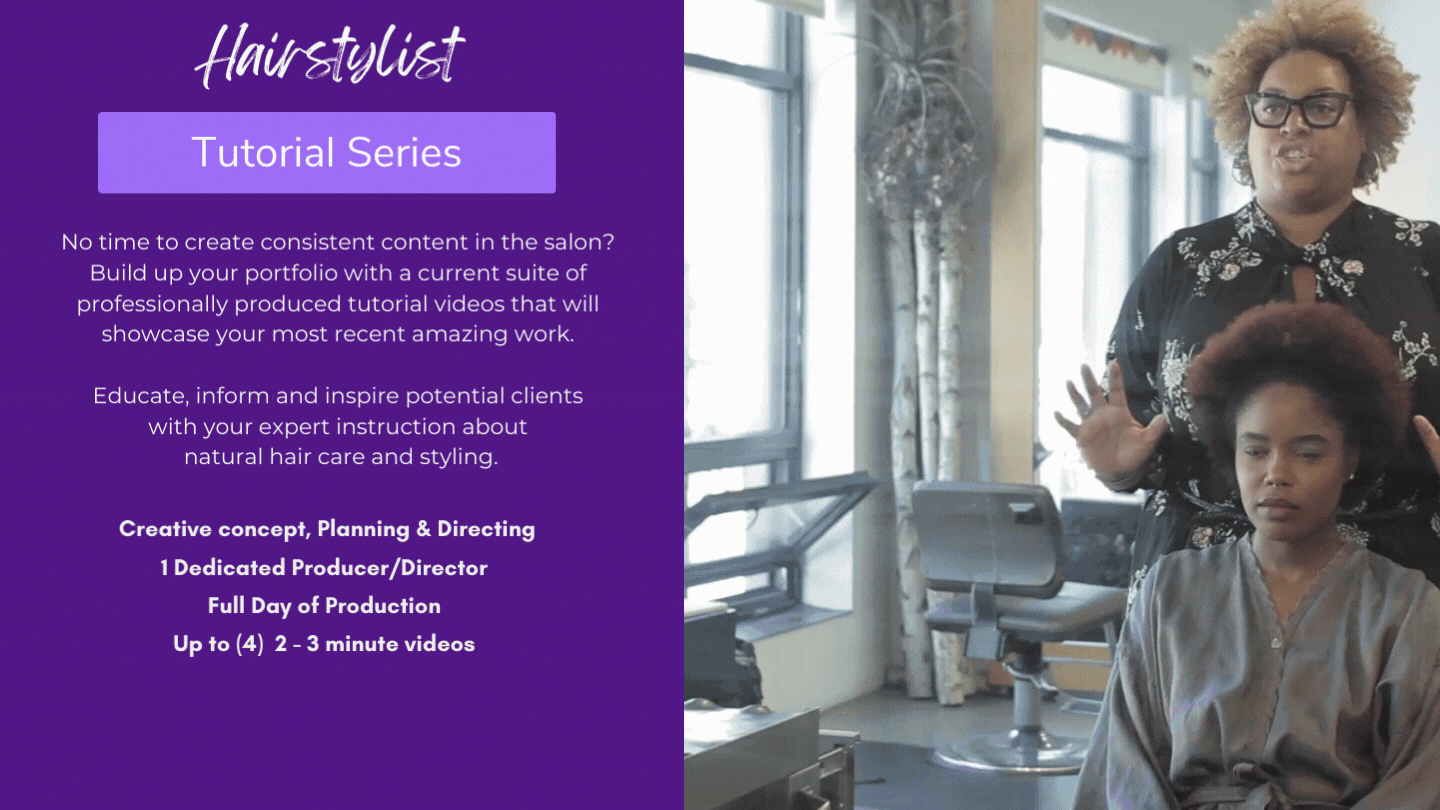 Mane Moves Studios, a fast growing video production agency is driven by passionate thinkers who work closely with each hair artist to craft their unique story that deeply engages audiences. The company thrives on working with hair care professionals to develop their voice in the media landscape. The company's mission is to highlight clients' unique talents to successfully connect them with those who are seeking their expert knowledge and experience.
Meet Founder & Executive Producer
Natasha Gaspard!

Natasha Gaspard, the visionary behind Mane Moves Studios, has been helping hair care professionals strategize and implement their creative visions since 2005. She has worked
with hair stylists in the industry who are passionate about teaching, inspiring and supporting women and men
on their natural hair journeys.
Natasha says, "The community at large is still lacking credible information when it comes to textured hair care. However, we are creating an opportunity to work with those individuals who are making a mark and a difference in the haircare industry."
Kamilah aka Ms Hair and Humor wanted to share her message with the world that
"Beauty Does Not Have to Equal Pain". She called on Mane Moves Studios to help craft and execute her vision to revolutionize the hair care industry.
Her simple message #TheFutureisKnotless was her battle cry that we used to shape the contents of the story. We invited the audience into Kamilah's world and included real testimonials from her actual clients to create this dynamic profile video that can be used for years to come!
Working with Mane Moves to create my first professional video about my Knotless braids experience was an absolute pleasure! It did not feel like work. The goal was clear and Natasha had a clear plan of what to shoot for our day that we knocked out one by one. She is patient and professional and although I had no idea what to expect, my idea came to life perfectly with Natasha's vision.
The video was so well put together I used it when a Good Morning America producer asked me for a video about my work and they loved it! I would highly recommend Natasha and work with her again because she is a true leader in creating, editing and producing video content!
~ Kamilah aka Ms. Hair & Humor, The Knotless Queen 👑