tutorials / profile videos / promos




noun
a suite of videos showcasing a range of creative work displaying your skills
& talent to potential clients
SEE WHAT WE CAN CREATE WITH YOU!
We know you're excited to get started!
Click below to schedule a complimentary Discovery Call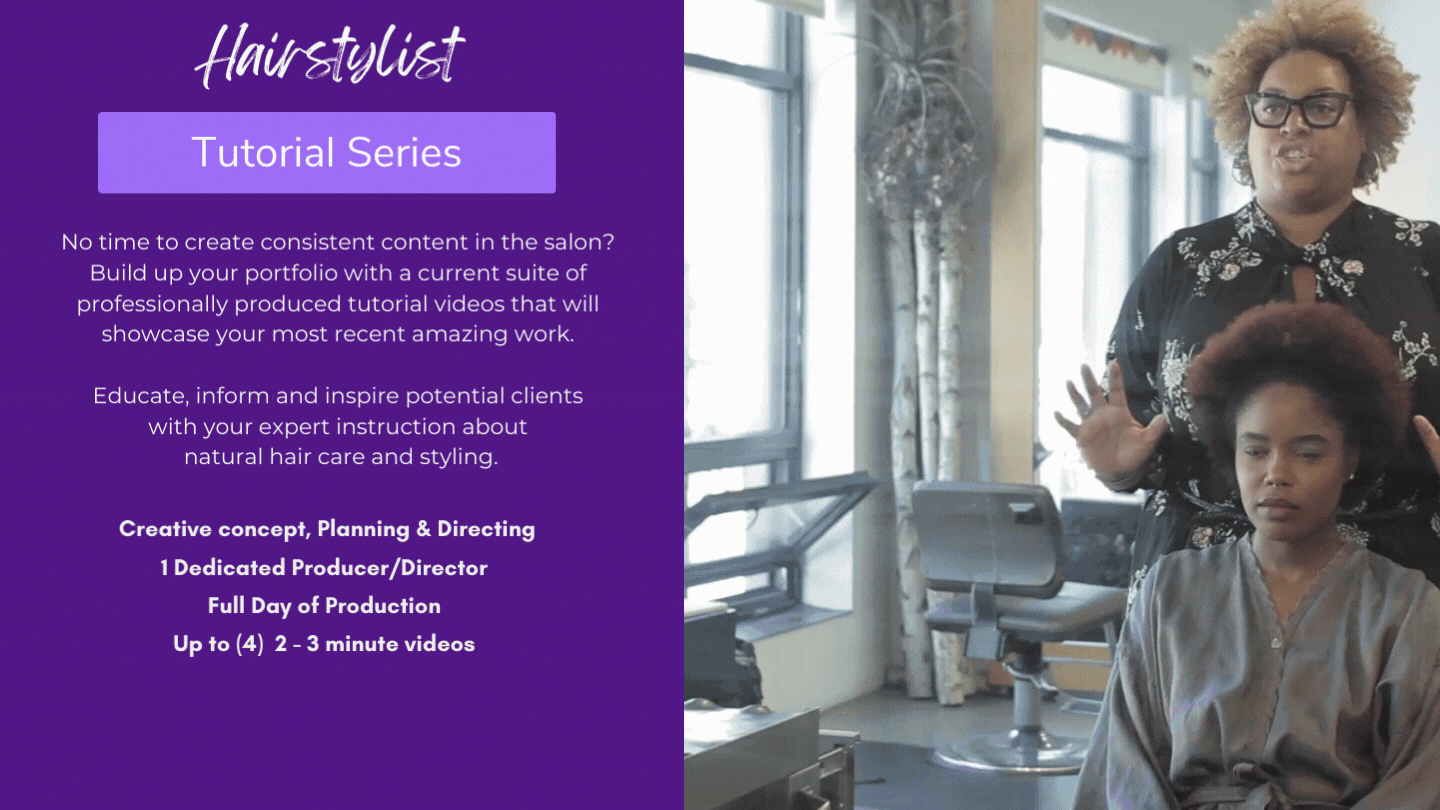 Not sure how to connect with the natural hair community?
Break through the noise and position yourself as the expert that you are! Our tutorials package allows stylists to share their knowledge and professional experience to educate, inform and inspire their target market about natural hair care and styling. A suite of videos will also allow an audience to see you in action creating trendsetting styling options for women, men and children with naturally textured hair.
​
Get in touch so that we can kickstart your personalized branding today!
​
At this moment in time, creating video content is a must for
getting messages out to your audience. What's missing in the
hair care market right now is the knowledge and experience
of skilled and talented hairstylists like you!
Engage your potential audience in a new way by showcasing the beauty & versatility in afro-textured hair. Inspire women of color worldwide with a comprehensive Video Portfolio that shares your expertise, knowledge and creativity.
Mane Moves Studios is the place for you to create consistent content.
​
Focus on being creative and we will handle the rest!
We work with natural hair professionals in the industry who are looking to take their brand to the next level. Video portfolios are the next wave! Everyone should have the opportunity to view your work up close and personal.
We specialize in visual storytelling that highlights your unique story, in your authentic voice. Let us help you tell your story like no one else can.
​
Leverage the power of video to help your business:
Showcase your level of expertise and unique point of view with your audience

Build stronger relationships with your existing customers while building trust with new ones

Attract more clients who are searching for you and your services/product offerings

Generate more traffic to your website and social media channels

Improve your search engine rankings to connect more with potential clients looking for your services